•
News
•
Customise Your Space with a Bespoke Timber Joinery Staircase
News
Customise Your Space with a Bespoke Timber Joinery Staircase
12 Jul 2023
When it comes to designing your home interior every detail matters. From the colour of the walls to the choice of furniture, every element contributes to creating a space that reflects your personal style and taste. One crucial aspect of interior design that often gets overlooked is the staircase. A staircase not only serves as a functional element that connects different levels of a building but also has the potential to be a stunning focal point for any home. If you're looking to elevate the aesthetics of your space, you should consider a bespoke timber joinery staircase. In this blog, we will delve into the world of custom timber joinery staircases and discover how they can transform your space for maximum impact.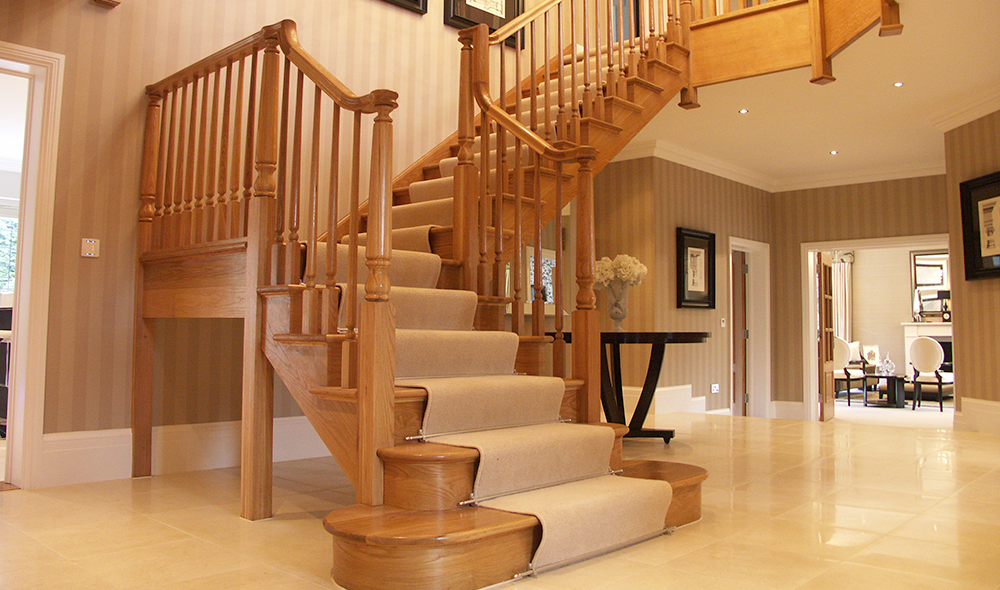 Uniqueness and Personalisation
One of the primary advantages of opting for a bespoke timber joinery staircase is the opportunity to create a unique and personalised feature for your space. Unlike pre-made staircases, a custom joinery staircase allows you to tailor every detail and element to match your specific requirements. From the choice of timber to the design details and finishes, you have the freedom to create a one-of-a-kind staircase that complements your interior design vision perfectly and gives your home a focal point for discussion.
Quality Craftsmanship and Durability
Timber staircases from Input Joinery are crafted with precision and expertise, resulting in a premium product that exudes quality and durability. Our team of experienced craftsmen meticulously construct each staircase, ensuring that every joint is secure, and every surface is manufactured to absolute perfection. The use of only high-quality timber further enhances the longevity and resilience of the staircase, making it a worthwhile investment that can withstand the test of time.
Aesthetic Appeal
The beauty of timber brings a natural warmth and elegance to any space. Timber staircases offer a wide range of design possibilities, allowing you to achieve the desired aesthetic for your interior. Whether you prefer a sleek and contemporary look or a more traditional and rustic charm, the versatility of timber allows for endless customisation options. From the choice of timber species to the shape of the staircase and the handrail design, you can create a staircase that becomes a captivating focal point, enhancing the overall appeal of your space.
Complementing the Surrounding Environment
A bespoke timber staircase can seamlessly integrate into your existing interior design, harmonising with the surrounding environment. Whether your space has an open-plan layout or distinct rooms, the staircase can be designed to flow organically with the architectural elements and the overall style of your home. Our dedicated and experienced team are on hand throughout your experience to discuss your project, and we can help design your staircase to complement your home as part of the proposal and design stages. At Input Joinery we understand that with careful attention to detail, the staircase becomes an integral part of the space, enhancing its overall visual impact.
Functionality and Space Optimisation
While aesthetics are important, the functionality of a staircase should not be overlooked. Custom timber staircases from Input Joinery can be designed to maximise the use of space efficiently. Whether you have limited space and need a small form simple flight, or require a grand staircase to make a statement, the design can be tailored to meet your functional needs while preserving the overall aesthetic appeal. For more inspiration discover our most recent timber staircase projects made for clients by Input Joinery previously.
Bespoke Joinery Staircases by Input Joinery
A bespoke timber joinery staircase is a perfect way to elevate the style and character of your space. With endless design possibilities, quality craftsmanship and the unique touch of natural timber, these staircases offer an opportunity to create a truly personalised feature that enhances the overall ambience of your home. If you're looking to make a statement and add a touch of elegance to your space, consider investing in a custom timber joinery staircase – an investment that promises both aesthetic pleasure and functional value.
For more information on how Input Joinery can manufacture a bespoke timber staircase for your home, contact our friendly staff today.