•
News
•
Timber Staircases: Answering Your Frequently Asked Questions
News
Timber Staircases: Answering Your Frequently Asked Questions
10 Oct 2023
At Input Joinery, we understand that made-to-measure bespoke wooden staircases stand as a favoured choice for homeowners and architects seeking to infuse their spaces with elegance, warmth, and functionality. Meticulously crafted with precision and methodically tailored to meet your exact specifications, our bespoke timber staircases seamlessly blend aesthetic charm with practicality.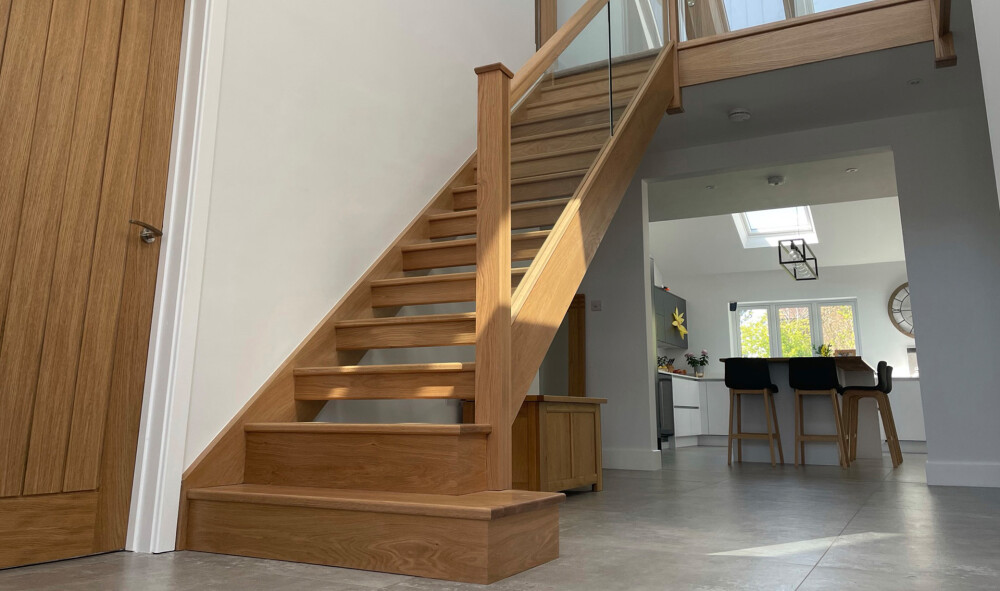 If you're contemplating the inclusion of a made-to-measure timber staircase in your home or project, it's only natural to want to clarify a few points. In this blog, we're here to address some of the most frequently asked questions, guiding you towards an informed decision.
What is a Bespoke Timber Staircase?
A bespoke timber staircase is a custom-made wooden staircase designed and crafted to fit the unique specifications of a particular space. These staircases are created with attention to detail, allowing for customisation in terms of design, materials, dimensions, and paint finishes.
With Input Joinery, every staircase we create is meticulously tailored to meet your specific needs, allowing you to play an integral role in the product's design, and specifications.
When you choose to go for a Bespoke Timer Staircase, you will have the opportunity to personally select every detail of your staircase. From the choice of balustrade and newel caps to handrails and string design, Input Joinery ensures that your timber staircase, not only adds individuality, but also serves as a functional and distinctive addition to your home.
What Benefits Does a Bespoke Timber Staircase Offer?
Opting for a bespoke timber staircase offers a multitude of advantages compared to a standard, off-the-shelf staircase. They provide a perfect fit as they seamlessly integrate into your space with precise craftsmanship. Bespoke staircases can be designed to maximise available space, even in challenging or irregularly shaped areas, optimising functionality. They significantly enhance property value and appeal, leaving a lasting impression on visitors or potential buyers.
With superior quality, durability, and the ability to incorporate unique design features, a bespoke timber staircase ensures long-term satisfaction, reflecting your vision and showcasing exceptional craftsmanship.
What Types of Wood are Commonly Used for Bespoke Timber Staircases?
In crafting bespoke timber staircases, at Input Joinery, we utilise a range of high-quality wood species to meet diverse design preferences and needs. Some of the frequently used wood types include Oak, Walnut, Sapele and Tulipwood. These wood species are selected for their distinct characteristics, such as unique grain patterns and colours, allowing you to choose the one that best complements your style and budget. Each of these woods offers its own aesthetic charm, ensuring that your bespoke timber staircase not only meets your functional requirements but also exudes the warmth and beauty that natural wood brings to your living space.
How Long Does It Take to Build a Bespoke Timber Staircase?
The timeline for constructing a bespoke timber staircase can vary based on the complexity of the design, the size of the project and the availability of materials. In general, the process typically takes 2-3 months from the initial design discussions to the final installation. It's important to note that the construction timeline can vary from project to project depending on the complexity. Input Joinery will work closely with you to provide a more accurate timescale based on your specific requirements. Explore further details about our process here.
Bespoke Timber Staircase from Input Joinery
Bespoke timber staircases offer a unique blend of functionality and aesthetics, making them a popular choice for homeowners and designers. By addressing these frequently asked questions, you're better prepared to make informed decisions about incorporating a custom timber staircase into your space. Whether you're aiming to make a statement with an elegant design or optimise a challenging space, bespoke timber staircases can offer a solution that combines beauty and practicality.
At Input Joinery, we offer a wide range of design options, wood species, finishes, and custom features to ensure that your staircase reflects your vision. Our in-house staircase team manages the journey from design to build, ensuring that every detail, from balustrades to handrails, is chosen by you to create a truly individual and functional centrepiece for your space.
Investing in a bespoke timber staircase from Input Joinery means investing in quality, durability, and timeless beauty. For more information on how Input Joinery can manufacture a bespoke timber staircase to your specific requirement, contact our friendly team today for a free, no-obligation quote.